Pray for the students of Asia and the South Pacific
We've put together these prayer cards to help you pray for the real people and real needs of Asia and the South Pacific. Meet the students of the Philippines, Bangladesh and Ukraine. Find out what's going on in the IFES student groups of Cambodia, Hong Kong and the Solomon Islands, and get praying for them on World Student Day.
Eurasia
Serhiy, CCX Ukraine
Foreigners and Muslims are still largely not accepted in the culture, but CCX students break the stereotypes and invite those on the margins to their groups and events. The administration don't want 'religion' on their grounds. Students lack initiative sometimes, and are afraid to talk about Jesus with their peers. Please pray for the Bible and Life conference, that students would be encouraged, equipped and full of courage to share the gospel, especially in the hostile universities.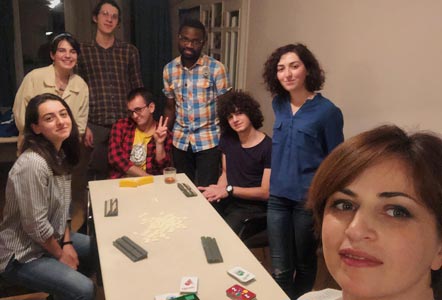 Diana, Georgia
Since Georgia is a very strong Christian Orthodox country, it is very hard to reach some people's hearts and it's quite difficult to talk about your faith out loud. There are many challenges at my university but unfortunately, we don't have a Christian group or community on campus. Please pray that Christian students find courage to boldly come out and establish a group at my university.
Yana, Eurasia
It is illegal to share the gospel with students on campus. In this context, pray for our boldness and for the hearts of students to be open. Pray that it might become possible for evangelism to be made legal.
Armenia
As a Christian at university, everyone considers you strange, old-fashioned, and someone who doesn't want to enjoy life. It's hard to share the gospel because if they find out you're a Christian or if they hear the word 'Jesus' or 'church', they'll think you're a member of a sect. For them, the only true church is the national church.
Pray that students in Armenia would be bold in evangelism. Pray that misconceptions would be broken down as students see the love of Christians.
Piuna, Armenia
There are people who call themselves Christian but they're not practising. When you try to be a practising Christian, you get segregated when you don't comply to everyone's ways. Please pray that students truly understand what fellowship is and experience the love of Christ. And pray that there is no competition for power between students but rather acting out of love.
East Asia
Rafael, IVF Philippines
We meet in the university grounds because we are not allowed to use school facilities for our prayer nights or and large group fellowships. Pray for patience, courage and favour for new believers. Almost 70% are from a Roman Catholic background. Many of them are persecuted by their relatives and friends. Pray also that our group can raise money to send 20 delegates to our regional leadership training camp in December.
Gigi, FES Hong Kong
Pray for peace to be restored to Hong Kong. Pray for Christian students to have wisdom to know how to respond to the protests and violence. Pray that our group can find peace and hope in Christ, and that we can be messengers of hope on campus. Pray that, even in the chaos, we can witness God's almighty power.

Sonoko Cambodia
The faith of Christian students is challenged by the pressure of friends and professors in the strong Buddhist culture. Most Christian students are new Christians and need help in growing as disciples of Christ. Pray for students to commit themselves to learn the Word of God and reach out to their friends to boldly share the gospel.
Lynne, IVCF Philippines
The challenges we face include distractions leading to complacency, activism/aggressive groups, and academic and peer pressure causing stress and burnout. Please pray for us to be intentional in going out of our comfort zones. Pray for our upcoming 50th Anniversary this November. Pray for our chapter to be active in reaching the students for Christ through Bible studies, fellowship and small group meetings.
Michelle, TCS Thailand
Students today struggle with broken families, relationships, academic stress and isolation. We haven't seen much change in the spiritual openness of students. Today, it's easier for a Thai student who is curious about Christianity to go on the internet and explore the Christian faith. But the easier internet access also means it's easier for them to get wrong information (sometimes from cults).
Pray for Christian students to put God first in their lives rather than getting swept away by pursuing success and becoming too busy for God. Pray that many Thai students this year would come to see that Jesus alone offers the love, identity, peace and wholeness they need, and would put their faith in Him.
Namjieun, IVF South Korea
Pray that many students on our campus come to IVF and pray that the students we're with now know and believe in God.
Tran, East Asia
Pray for us as we try to teach small groups to reach their schools. We are not allowed to speak publicly so sharing the gospel is difficult.
Phearak, Sonoko Cambodia
Christian students are busy and afraid to share the good news to their friends because of the difficulties they would face from their friends and teachers. Pray that we keep standing strong in faith. Pray for all the group members to love to study the Bible and do fellowship together.
Bird, TCS Thailand
Many students find religion and faith not relatable to their lives, so it is hard to share the gospel. Pray for boldness for Christian students to make a positive change in the university.
South Asia
Noble, BSFB Bangladesh
This is a Muslim majority country where it's not easy to convert to Christianity from other religions. People think we've been brainwashed if we follow Christ. Ask God to guide us.
Pratigya, NBCBS Nepal
The greatest challenge is not being able to openly share the gospel for fear of being excluded and defamed. The new anti-conversion law is another big challenge. Pray that the Christian students are able to share the gospel to their friends in the campus without any hesitation and fear. Pray that we would be ready to accept upcoming persecution because of the new anti-conversion law.
South Pacific
Benjamin, TSCF New Zealand
The biggest challenge we face is sharing the gospel with people who are mostly apathetic to spiritual things or don't see a need for God in their life.
Please pray for the Overseas Christian Fellowship at the University of Auckland. We would like prayer for boldness to share the good news of Jesus to our classmates, friends, and strangers on campus. Also, we want to stay focused on our goals of reaching students for Christ and changing students for life. We need help in many areas especially for our new committee as we learn how to work together and grow as a team.
Fanga, GNYF Vanuatu
We are now seeing a change on campus. Students are hungry to know Jesus. They come along because they want to dig in to the Bible. A year ago, small Bible study groups started in student accommodation blocks. And now we offer three meetings a week – one in English and two in Bislama (Vanuatu broken English).
We're witnessing God's work beyond our campus gates too. Our national movement, GNYF, is pioneering student groups in the francophone universities in Vanuatu, and regionally there is pioneering work starting in New Caledonia. But my heart is for my homeland – Tonga. Please pray with me for the same work to start there in the next year or two.
Bec, AFES Australia
It seems that many people in Australia are under a spirit of apathy and ignorance. They simply don't actually care what they believe, or why. They think that Christianity is 'ok for you to believe, but it's not for me.'
As Paul prayed all those years ago, we continue asking for boldness in proclaiming the gospel, and the ability to start conversations, even though we might not have all the answers or eloquent words. Also, prayer for the courage and commitment to simply be counter-cultural, living as God calls us to live when the world around us is living in such different ways.
We don't have any female staff workers with us next year, so we would also love prayer that God would raise up our older girls to be wise, disciple-making disciples.
Holly, TSCF New Zealand
The biggest challenge we face is apathy towards Christianity and the fact that obedience to Jesus is considered harmful to people. Mental health is a huge issue in New Zealand. We have organised talks about the Bible and mental health on campus and that has led to real gospel opportunities. Please pray for new student group leaders to be trained and equipped for the coming year(s). Pray that our various groups would work well to support each other.
Akua, AFES Australia
Our university is Catholic so most people are Catholic or atheist there. Some people may have negative connotations towards Christians. But we have had a Muslim student attend our prayer meeting a few times which shows that our doors are open for people of all faiths to explore Christianity and find salvation through Christ.
Our staffworker is preparing to leave us at the end of this year to serve in Perth, Australia. Praise God for the way our staffworker has so faithfully served our group this year. Please pray for us as we do not have a staffworker lined up for next year. Pray that if it is in God's will, He will provide us with a staffworker but if not that we will continue to grow and be faithful in meeting together and reading God's word as a group. Please pray for evangelism on our campus that we can boldly proclaim the gospel to students.