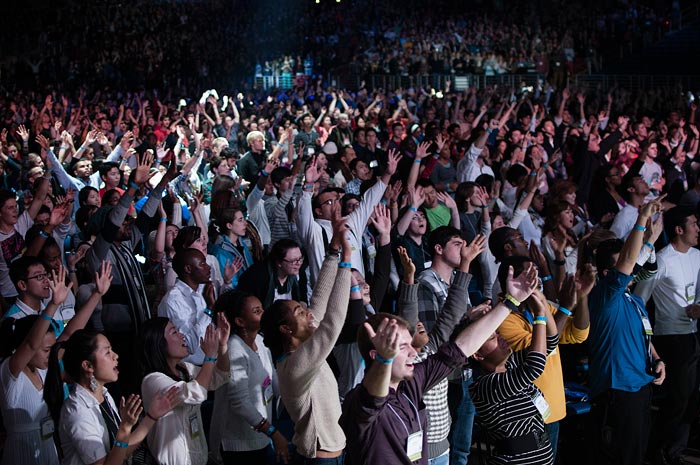 United States of America: Understanding Urbana
The Urbana missions conference, hosted by IFES student movement InterVarsity USA, has an incredible legacy. Since 1946, Urbana has called thousands of students in the US to answer God's call on their lives, inspiring other student movements worldwide with a similar missionary vision. Many people around the globe can look back and point to their Urbana experience as a turning point, when they gave their lives to Jesus in a new way.
The Urbana conference is coming later this month. However, Urbana 2022 takes place in a cultural landscape that is quite different to what precedes it. The years since the last conference in 2018 have been politically, socially, and economically tumultuous and divisive for America, and sadly, the church has not escaped this division. In this Prayerline, one of the conference organizers, Anna Lee-Winans, shares how we can pray ahead of the conference.
Anna is mindful of some complicated contexts. There is, for instance, the fact that "a lot of Christian mission has the weight of colonialism". But Anna wants students to see that both God and the global church invite them to be witnesses to the gospel of Jesus "to the ends of the earth" (Acts 1:8). At this Urbana, there is an invitation to local Native American Christian leaders to come and show delegates how to "come in a good way". These are people with whom InterVarsity's dedicated ministry to Native Americans, Native InterVarsity, have built relationships for many years. It's important, says Anna, because "appropriately discerning God's invitation and engaging humbly with a new culture is deeply honoring to the image of God". 
Urbana draws students to "a key place for the American church to access the voice of the global church and the church on the margins. Through exposition of the book of Acts, multicultural services, testimonies, and leadership and coaching opportunities, our hope is that Urbana will be a discipleship experience." In a church fractured by political and cultural division, we can pray that students stuck in a polarized cultural moment would find the path forward in Christ; the hollows of their ideologies filled out by the wholeness of the gospel. "For students from both politically conservative and liberal backgrounds, including those who are 'deconstructing' their faith and those who have syncretized their faith with American culture, Urbana is a place to be powerfully discipled. We want students to be 'free indeed' (John 8:36), to engage this cultural moment well, trust Jesus for this season, and follow the Holy Spirit's invitation."
Please pray with us for Urbana '22 and InterVarsity USA:
Pray that at least 10,000 InterVarsity students will come to the conference with open hearts for their faith to be "reconstructed" by the truth of the gospel.
Pray that Urbana might be a place where divisions are healed; where those who have been struggling with cultural questions might see a glimpse of the real Jesus which helps everything else fall into place.
Pray that God would work through Urbana and through InterVarsity students to bring the good news of his real, everlasting, life-giving power through Jesus, both in the United States and the church globally.
Thank you for supporting InterVarsity USA in prayer. If you feel led to contribute to their movement financially, you can do so here.