Energizing evangelism across Europe
Connection and collaboration fuels creative, courageous mission
"We are living in a desperately tumultuous, uncertain time. The world is in crisis. We are facing a pivotal moment in western civilization," says evangelist and author Becky Pippert. "If ever there was a time that the world needs to hear the good news of Jesus Christ, it is now. We must not fail to make a difference in this critical cultural moment."
Becky Pippert addressed these remarks to 100 evangelists and 40 academics during a conference organized by FEUER, the Fellowship of Evangelists in the Universities of Europe, this past October.
In a post-pandemic context, amid rapid cultural shifts and the rise of "cancel culture", sharing the gospel on European university campuses can be challenging. But when evangelists in IFES Europe's FEUER network met in Greece late last year, they exchanged ideas and encouragement to equip and empower this mission. FEUER connects the national movements of IFES Europe with European evangelists committed to the public communication of the gospel in the region's universities. These partnerships are crucial to the success of mission work in the region.
We come away with so many ideas to steal and adapt in our own context and people feel motivated to 'give it a go'!

Michael Ots, field director for FEUER
"The courageous and creative approaches to public evangelism that we hear shared at our annual conferences are not just an encouragement – they are an inspiration," says Michael Ots, field director for FEUER. "We come away with so many ideas to steal and adapt in our own context and people feel motivated to 'give it a go'!"
Debates between Christians and famous atheists on YouTube, podcasts, book clubs and publishing projects were just a few of the diverse outreach ideas shared by members of this grassroots network during the recent conference. And many ideas have been shared and adapted between countries and student groups.
Reinvigorating student mission
"In a post-pandemic world, we have been exploring how we can rekindle the idea of evangelism in Christian Unions, some of which have never seen mission done before," says Julia Garschagen, Director of the Pontes Institut. For her, the conference was a chance to update those present on how the Pontes Institut, in partnership with relevant IFES national movements, is building bridges among science, culture, and faith in Germany, Austria and Switzerland.
"We looked at the needs in these German-speaking student movements and realized that we needed to find students who are multipliers, people who have already seen and done mission and can bring along those who haven't so that we can restart missions in many cities," observes Julia.
Together with her colleague Heike Breitenstein, they have started a program called Proclama (Proclaim), which trains students and recent graduates in theology, apologetics, and communication skills, equipping them for public evangelism. It's an idea they have borrowed from a similar program run by GBU Spain and the Spanish apologetics institute, Instituo Pontea — a program they heard about during a previous FEUER conference. "We have just started our third cohort of Proclama students and this year we have eight students from Germany, Austria, and Switzerland," Julia reports. "It is really encouraging because often the students who do Proclama are the ones who get student groups excited to do mission weeks. They are able to give evangelistic talks themselves and train other students in how to do personal evangelism."
Julia also shared news of an event focusing on a new style of evangelistic dialogue being used in German-speaking IFES movements.
"We've found that a lot of postmodern students want to experience and explore the gospel for themselves," she says. "They have a more existential approach, so we have been trying to introduce a dialogue model of evangelism that gets people engaged with a biblical text while also discussing an existential topic, for example 'I have a full calendar and an empty soul: how do I find fulfilment?'"
This type of engagement is already bearing fruit in the east of Germany, one of the most unchurched regions in Europe.
"I was recently in Rostok, in the far northeast region of Germany," shares Julia, "it's the kind of place where there are a lot of atheists. You can meet people there who have never heard the name of Jesus. But this also gives you the opportunity to open the Bible without a lot of prejudice because many people there have never seen one before." She recalls leading one event where "there was a student who prayed the prayer and gave his life to Jesus. We don't see this very often, so this was a real day of celebration for us."
The word on fire
FEUER may be an acronym, but it is also the German word for fire (pronounced foy-yehr). It was Dr Martyn Lloyd Jones, the first chairman of IFES, who described preaching as 'logic on fire'. FEUER was established in 2008 to spark an increase in the public proclamation of the gospel throughout European universities. At the time, university "mission weeks" occurred regularly in less than five countries in the region.
Mission weeks are a special series of events during which the gospel is proclaimed publicly and persuasively. This single, intense experience is a point of culmination for the ongoing personal witness of Christian students throughout the year as well as a catalyst for further witness.
Over the last 15 years, FEUER has grown into a network of grassroots evangelists from 40 countries. The Lord has used this network to help many Christians rediscover a confidence in the public proclamation of the gospel. As a result, university mission weeks have been pioneered in 36 countries, regular mission weeks take place in approximately 25 of those countries, and many thousands of students have heard the gospel.
Take what you learn and make it your own
Nonetheless, there are still countries and cities where the idea of hosting a mission week is an unfamiliar concept.
"I hadn't really even known what a mission week was when I attended my first FEUER conference," says Nico Villanen from Finland, who was a student when he first attended the conference two years ago. "We heard that mission weeks are an amazing concept, but we hadn't seen it in practice, so a friend and I attended the mission week planning course at the conference."
Nico, presently a staff worker with HSSM, the Swedish-speaking IFES movement in Helsinki, shared how his student group organized the first ever mission week in that city last April.
"We were so blessed because on the first event of our mission week, there was one girl who accepted Jesus as her Lord and Saviour," remembers Nico. "At that moment, we thought, 'wow, if this is the peak and if nothing else happens this week, this is enough!'
"It was not only for the non-Christians that our event was successful, but also for the Christians in our city. We'd had a mission week prior to this, many years ago in a different city, but it was a total flop. The Christian students who remembered that event were initially skeptical about our plans, but at the end of our mission week they came to us and said, 'It actually works.'"
If there is one thing that those in the FEUER network know it is that there is no one-size-fits all when it comes to student evangelism.
Nico came to understand this during his mission week last April: "We learned that free lunch events don't work in our context because university lunches are heavily subsidized here. Next time we will probably do a café event with baked goods and coffee instead. My advice is to take what you have learned and make it your own."
"Many of the ideas shared in FEUER are unique to a particular context," acknowledges Michael Ots. "But behind the practice there are principles that we can all learn to apply in our setting, for example the importance of prayer, publicity, creativity, and follow up. Often people get inspired by a particular idea and then learn to adapt it to their own context."
More than a conference
Beyond its annual conference, the FEUER network is comprised of diverse individuals who stay in touch throughout the year and collaborate on mission weeks. Some members of FEUER are IFES staff and students; others work for churches, Christian organizations, universities, or in a variety of secular workplaces. The network mostly includes people who are involved in delivering evangelistic talks – or are interested in doing so – but it includes mission organizers too.
FEUER now has a parallel network for academic speakers wanting to bear witness to Christ from inside the university while partnering with public evangelists. Additionally, FEUER has started a Seeker Bible Study Network to encourage small group and personal evangelism that complements public proclamation.
"When I travel to meet the leaders of national movements and ask them about their biggest encouragements, I am amazed at the number of times FEUER is mentioned," says David Montgomery, Regional Secretary for IFES Europe.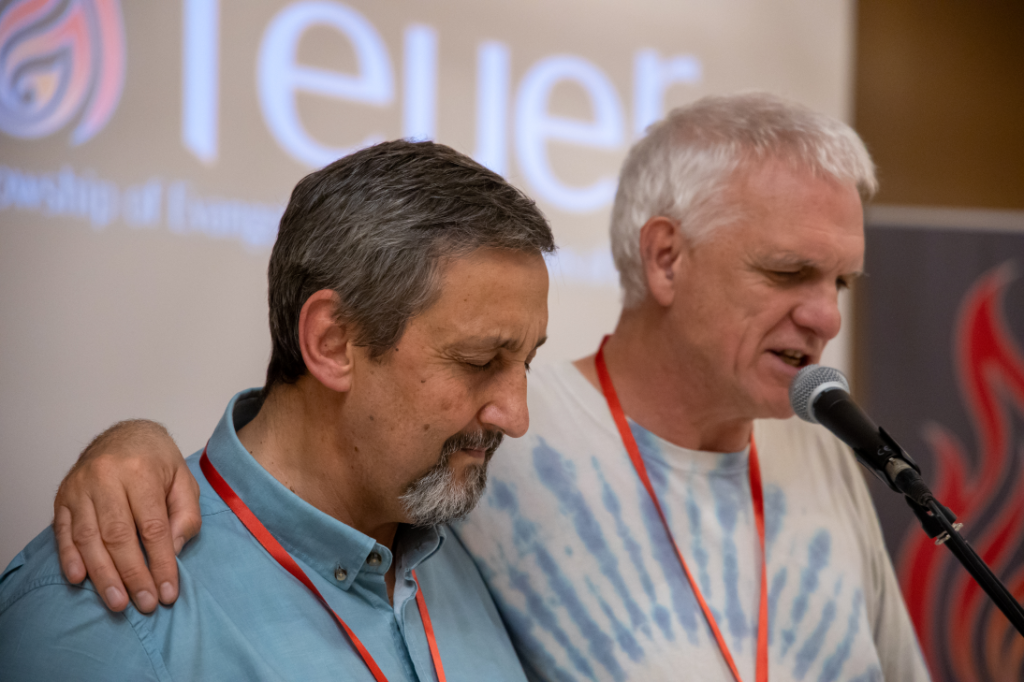 "Many of those who have come to faith in recent years in our region have done so through events inspired by FEUER. We want to make the training and mentoring of young evangelists a priority in the years ahead."
Videos from the plenary sessions at the recent FEUER conference as well as other helpful evangelism resources can be found on the FEUER website.
If you are involved in the public proclamation of the gospel in universities in Europe or if this is an area that you are keen to explore, contact Michael Ots to find out more: Michael.ots@ifeseurope.org. The next FEUER conference will be held November 2-6 in Spain.