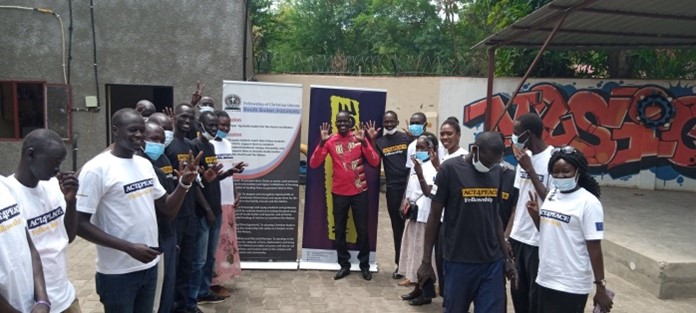 South Sudan: Peacemakers in ethnic civil conflict
'Bloodshed is nothing new for South Sudan'.
Denis locates current ethnic division within the young country's past. 'For 22 years before independence, a brutal civil war raged in Sudan between the government in the predominantly Muslim north and rebels from the south, where people are mostly Christian.' Now, Isaac says he 'personally terms ethnic conflict as political wrangling used to divide and conquer, splitting the nation'.
But FOCUS, the IFES national movement in South Sudan, are working to speak into the nation's problems. Isaac and Denis are 'peace actors' in the Acts 4 initiative, FOCUS's awareness campaign about the impact of hate. An ethnically-based civil war has continued in some form since 2013. As Denis explains, 'ethnic hate speech is rising among students across the country, and students are significant because they are influential in their communities.' But the gospel is the foundation for FOCUS to be peacemakers. They held a three-month program of workshops for 45 student leaders, from different campuses and ethnic backgrounds, chosen to be 'peace actors'. They also distributed anti-hate campaign posters in public places and campuses, and were even invited to speak on the radio. Finally, FOCUS invited 350 students to honest discussions in which many recognised that their hatred towards other ethnic groups originated in family attitudes, learnt at an early age.
Isaac and Denis are both students in Jonglei state, which was the epicenter of violence in 2013. Their studies continue to be severely impacted by violence in the town surrounding their university. Isaac explains that 'students forget intellectual reasoning and argue that conflict will benefit their own tribe. FOCUS brought us out from this way of thinking and helped us realise what our leaders really need to focus on. I am so fortunate to be able to contribute constructively towards transforming South Sudan. This Act 4 peace initiative has changed my entire life from the perspective of this ethnic conflict and communal violence.'
Denis shares his experience of going to university in such a dangerous place:
'It was so difficult for my parents to let me go to Jonglei state. It was really a challenge for me to integrate with local communities from a different region, not knowing the local language. While this had a real impact on my faith, it was the first step in my life towards advocating for peace. My parents started to change their attitude toward other ethnic groups after this, too.
'The Acts 4 initiative encourages me to stand firm in my faith despite the challenges. Before becoming a peace actor, I was negative about other ethnic groups. But I learnt to embrace diversity and inclusiveness. Through this small initiative there was a great impact on our university. I want to thank God for the great work he is doing in different nations across the globe, and particularly in South Sudan for raising people who have the heart to work for his kingdom and for peace.'
It doesn't stop here. FOCUS South Sudan are beginning a partnership with another IFES movement, FOCUS Kenya. FOCUS Kenya National Director Simon Kande explains that they are planning to fund a South Sudanese staff member, and, if possible, send FOCUS Kenya staff to South Sudan. They are interested in helping FOCUS South Sudan in their peacebuilding work, too. A group of FOCUS Kenya graduates are working for community development and ethnic conflict resolution in NGOs and agencies in South Sudan. FOCUS Kenya plans to bring them together as an Associate branch – ready to serve the movement in South Sudan, and further the cause of gospel peace in the country.
Pray for Denis, Isaac and FOCUS South Sudan:
Denis and Isaac both ask that Prayerline readers continue to pray for peace, healing and reconciliation in South Sudan, that the country's leaders would embrace diversity, and that God would give them strength as they work for transformation.
Isaac asks that we pray for the impact of climate change in South Sudan, which currently ranks in the top ten most vulnerable countries. 'I really urge you of good faith to continue your support, spiritually, mentally and financially to relieve our beloved country from this critical situation.'
Pray for the gospel work of FOCUS, that students would be the Lord's agents, that God would provide, and his kingdom will come. Pray that the planned partnerships with FOCUS Kenya would go ahead.
If you want to find out more or get in contact with FOCUS South Sudan, you can email them at focusssu@gmail.com. You can give to the movement here.