Sarah's search
A Muslim student in Indonesia gets curious about Christianity
Sarah* was devout. She wanted to help her Christian school friends become Muslims. They were kind people, and she didn't want them to go to hell. So she started buying books about religion, watching debates and reading articles. She'd ask her Christian and Hindu friends clever questions to help them see their mistakes and realise the truth.
By the time Sarah was at senior high school, she was reciting prayers every morning, memorising two pages of the Quran every week, and fasting every Monday and Thursday.
But she was also curious.
Compelled by curiosity
It was curiosity that took Sarah along to a talk held by the Christian student group, Perkantas (the IFES movement in Indonesia). The flyer had been well designed and caught Sarah's attention. She wanted to go. She knew her boundaries – she wouldn't join in any worshipping or praying – she was just curious. As she listened to the talk on salvation by grace, she thought again how wrong Christians were.
Curiosity took her along to a second Perkantas event, this time a seminar about the Trinity. Sarah wanted to know what was behind the concept of the Trinity. She wanted to see for herself just how weak that Christian concept was.
But she came away a bit dissatisfied… It wasn't as ridiculous as she'd expected. She realised that winning an argument against a Christian over the Trinity might be harder than she'd thought, and probably shouldn't be attempted.
Searching for answers
Sarah went back to concentrating on her devotion to Islam. She took it more seriously than ever. But one day, she found herself with a new question: am I just a Muslim because of my upbringing? Or is Islam objectively and universally right?
It was a question she couldn't answer. But she wanted to know. Her Muslim friends were not much help. Sarah's Christian friends, however, were happy to talk it over with her. One discussion got to the crux of the matter: "In my religion, Jesus was not the one on the cross", Sarah told them. But their unnerving reply: "Which one came first? The Bible or the Quran? In history, the text written closer to the event is more likely to be true."
Those words were dancing around her mind. She didn't want to believe, but she needed to find out the truth.
Another friend suggested she read Nabeel Qureshi's book Seeking Allah, Finding Jesus, the story of a devout Muslim converting to Christianity. The writer was from a different Islamic sect to Sarah – no wonder he wavered, she thought. Though reluctant at first, Sarah finally downloaded the book and began to read it on her phone. Again, she found her perspective on the crucifixion being challenged.
She wasn't yet convinced.
Dreams and doubts
But a few days later, Sarah had a dream. She saw Calvary.
She told herself it was just the result of her recent reading, nothing more. But then – another dream! In this one, she had become a Christian and her mother was furious with her.
Sarah felt scared. She was a Muslim. Why would she become a Christian in a dream?
Sarah's long search for the truth, her unanswered questions, dreams and doubts finally drove her to prayer. She asked God to show himself to her. She turned first to the Quran, but didn't find an answer. Then she turned to a Christian website and her eyes fell on this:
"Be still, and know that I am God;
I will be exalted among the nations,
I will be exalted in the earth."

Psalm 46:10
Sarah knew that God was speaking to her directly. At that moment, she decided to open her heart and become a Christian.
Dramatic changes
Sarah's life changed dramatically from that moment on. Moved by God's love for her, she felt a new compassion for her family and friends who didn't know Jesus. Now, instead of wanting her Christian friends to become Muslims, she wanted her Muslim friends to become Christians. It was a complete transformation.
When Sarah moved to Malaysia to go to university, she got involved with FES, the IFES movement there. She went to Bible study and church regularly and made friends who helped her learn more about God. She came to understand more deeply that salvation is not something to keep to yourself. It is for all people around the world. She had been greatly blessed to have heard, understood and experienced God's love and grace in salvation. Other people needed to know too.
A new dilemma
Sarah told her family about her faith quite recently. Her mother was furious with Sarah. She wouldn't let her go to church or go to her fellowship group. She arranged for someone to come to their house to teach Sarah about Islam. She told Sarah that she's the reason she's getting sicker every day.
For Sarah, it's a new dilemma. What does it look like to love and honour her mother, while at the same time, following Jesus?
Whatever happens, I believe God is in control. I'm grateful for the support and prayers of IFES, FES Malaysia and Perkantas. It means a lot to me.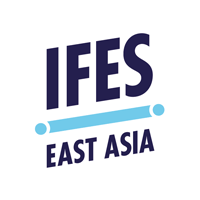 East Asia Week 2019
Jesus is doing incredible things in the lives of students in our biggest global region. Learn from students and find out how God is calling many to know him in some difficult contexts.