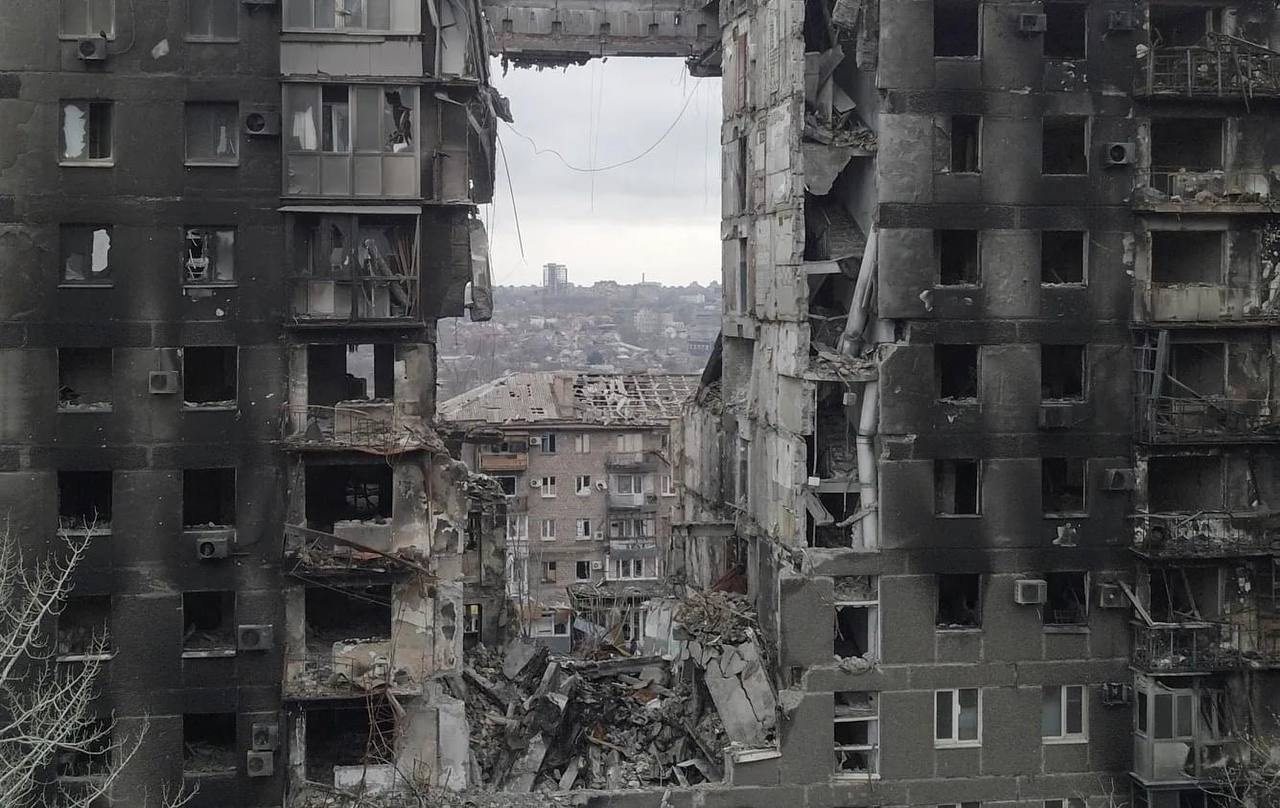 In the midst of the darkness
Perspectives on the war in Ukraine
The war in Ukraine has impacted the work of IFES on a number of levels. In this special two-part edition of Conexión, we share first-hand accounts of how, even in the midst of the darkness of war, God is working.  Read here the perspectives of IFES students, staff, and graduates from Ukraine as well as Russia.
The second part of this post, available here, includes accounts of how the fellowship has responded more broadly to the impact of the war. 
Anna: "I'm not afraid to die"
Anna was a student in Kyiv before the war. Originally, she comes from Lysychansk, in the Donbas region. For months, that city was on the frontline, and the fighting was so fierce that Ukrainian President Volodymyr Zelensky pronounced it a "dead city." Nonetheless, while everybody fled Lysychansk, Anna went back home to work with a small team from her church, helping those left behind.
Though Anna initially stayed in Lysychansk, providing basic care to those who needed it, at the beginning of April the fighting came close enough to destroy the buildings surrounding her church. The team changed their approach. Positioning themselves slightly further away, they have been driving into and out of Lysychansk, and have evacuated more than 600 people from the city.
One evacuee, an elderly woman, attempted to end her own life several times before Anna's team finally reached her. After having the woman checked over in hospital, they found her a place to stay and shared the gospel with her.
The team are working in very dangerous places. One day, on the journey into Lysychansk, they met an international journalist travelling by armoured vehicle in the same direction. On the return journey a few hours later, they discovered that he had been killed by shell fragments. On another occasion, the team had to hide from shelling under a bridge. Nonetheless, when it subsided, they got back in their van and continued towards Lysychansk.
As Lysychansk is now under Russian occupation, the team can no longer access the city. Instead, they administer humanitarian aid in other places, while still navigating the danger and taking refuge from shelling when needed. "Every time God has provided for them," shares Marina, CCX staff who began mentoring Anna before the war. "I was really worried about her. But when I shared my concerns, Anna said 'I'm not afraid of anything. I know that if I die I'll be with Jesus. God has called me to do this, and this is the mission I should fulfil.'"
Marina: "God is working"
It was 5am when Marina awoke to the explosions ringing through Kyiv. Her phone was full of messages from concerned friends, and the roads out of the city were already blocked with hundreds of cars. As she sat tensely with her family at breakfast, the query of her 12-year-old stepsister brought home the reality of their situation: "am I going to die?"
"Yes." Marina's reply was stark. Then she explained that "whether now, or many years in the future, what's important is whether you are saved." In that moment, through prayers and tears, Marina's sister accepted Jesus. Looking back, Marina can now recognise the seeds that God had sown. "In the previous month," she explains, "[my sister] had been asking a lot about the Bible and life after death. God was definitely working in her life." Marina's sister has since been attending Discipleship Explored and helping with humanitarian work at church.
Since the war began, Marina has continued her work with CCX, the student movement in Ukraine. She meets remotely with groups from Kyiv, Cherkasy, and Mykolaiv – another city on the frontline. The students in these groups have been dispersed all over Europe. Beyond working to keep pre-war student communities strong, Marina is also helping to start a new group in a university in Kyiv, establishing friendships with around 20 students. Moreover, as part of a joint initiative with ChSA, the national movement in Poland, CCX Ukraine provided boxes of Easter gifts and gospel materials to university and high school students in Kyiv.
Far from home, Marina knew many Ukrainians were missing the opportunity to gather and worship in their own language. Forced to leave Kyiv back in February, Marina spent two months in Western Ukraine, before moving to Bucharest. She made a new, albeit temporary, home in an apartment belonging to IFES Europe staff member Heidi—a home which included a piano. This meant Marina could arrange worship nights live on Instagram. She has since spoken to an audience of 13,000 youths, at the Christival conference in Germany, about her experience of God's work during the war.
Marina plans to return to Kyiv at the end of July to help prepare CCX students and staff for the new academic year. While she doesn't know whether another attack will come, her church back home is full of new people – over 100 newcomers each Sunday. There aren't enough Christians to help them all, and the church has run out of Bibles. As Marina explains, "they are mostly older people from Mariupol, Kharkiv, and Izum – those who have lost their jobs and homes. They have nothing. But they find hope when they come to church.
"Students have finished exams and now need clarity about whether to continue their studies at universities in Ukraine, or apply to European universities," explains Marina. "Please pray as well for renewed strength for CCX staff, many of whom have started new lives in other cities. Pray that God will provide for their needs and give them the strength to serve others."
Dmitri*: "There is something more universal than politics"
"'How do you cope, Dmitri?'
'Does it work?' My colleague was incredulous.
And then we had to stop talking."
The city where Dmitri lives is north of the Arctic Circle and quite remote. It was there that Dmitri participated in the Russian student movement at university, and there that he made his home afterward. Nonetheless, Dmitri has, since the outbreak of war, been trying to help people in Ukraine. He used his connections to find accommodation for a family from Mariupol and help them get to Norway. Twice a week, Dmitri also does translations as part of the Psalms for Ukraine project, work that is passed along to him by Kenny, a staff member at UCCF, the UK national movement. This project serves Ukrainians whose first language is Russian.
Dmitri acknowledges that it is very hard to discuss the war in Russia. "I don't have many friends with whom I can talk about such things. People just say that it's complicated, or that we don't have enough information, to excuse themselves from making a judgement. Lots of people are hiding their heads in the sand."
Unfortunately, this malaise applies to Christians too. "While local churches spoke about justice and equality at first, they are now unwilling to speak publicly," explains Dmitri. "Being a Protestant in Russia was dangerous before, and now even more so. And at the same time, I have Christian friends in Crimea who view the war completely differently. It's very difficult."
As this new reality settles in, Dmitri asks us to pray against "war fatigue." "We need spiritual stamina to keep praying. At some point you feel like you've run out of words. Pray also for the healing of both nations. No matter how the war ends, we will eventually have to look each other in the eye. Most of all, pray that believers would stay active, be salt and light, sharing hope, even when it feels like there is none."
Next week we will publish more perspectives from those impacted from the surrounding countries, as well as expanding on the role IFES has played in supporting students and staff who have been affected.
*Identities have been protected for security reasons.