IFES World Assembly 2023: Tabah & Tangguh
Sharing honest testimonies, nurturing resilient faith
"What is it like to be a Christian in your country?"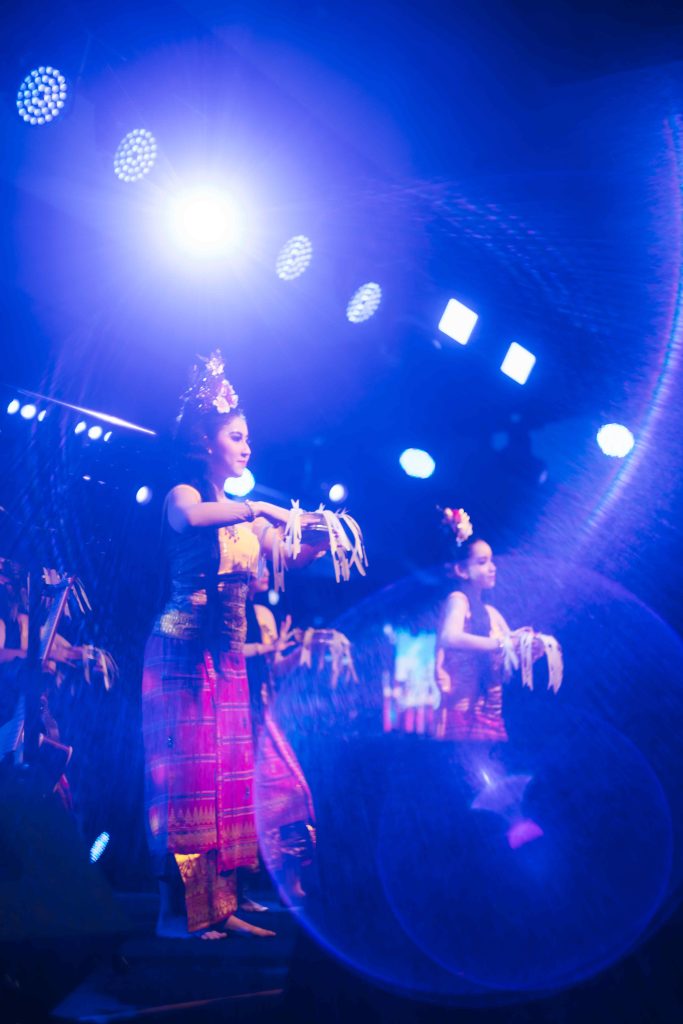 "It means putting your life at risk… it's like walking on thin ice… with the fear of being exposed and thrown in prison, or taken away to who-knows-where… for me it's meant being held under house arrest in my room for years, losing my voice because I wasn't allowed to speak, and the constant threat of being beaten, kicked, or held with a gun to my head if they found the book that had been smuggled in through the window."
"Is there any hope for Christians there?"
"Jesus is the hope! There is darkness. But Jesus will use us to make the impossible possible."
These frank and defiant words, spoken by the board chair of an IFES movement in the Middle East and North Africa region, epitomised the theme of this year's World Assembly in Jakarta: Tabah & Tangguh – Indonesian words conveying strength, fortitude, resilience, and perseverance.
At the conference's opening ceremony, Sara Friis Børty set the tone by sharing experiences from her years of pioneering ministry in Greenland. Hers was not the miraculous success story you might have expected at the start of a large Christian conference. Instead, Sara openly relayed her struggles: closed doors, dashed expectations – even after much earnest prayer.
So it was that of the 845 delegates present – students, staff, board members, and guests from 162 countries – each person could relate to that struggle. Some faced persecution, some dealt with disappointment, others had been living through political turmoil or war, and all were still coming to terms with the loss and disruption caused by COVID-19. So it was that the invitation offered by Annette Arulrajah (IFES Associate General Secretary), speaking from Psalm 84, was a poignant introduction:
"Come weary travellers… come seeking pilgrims… from desolation to God's dwelling place."
Honest to God: Resilient Faith in the Psalms
Over the course of six mornings, speakers of varied ages, backgrounds, and languages helped participants to examine and reflect on the bold and candid spirituality of the Psalms – from happy obedience (1-2) to questioning lament (88), from conscious remembrance (105-106) to exuberant praise (145).
Dwi Handayani spoke out of her own years of faith crisis caused by a devastating earthquake and personal betrayal – a crisis that unfolded even as she lectured in theology at Bandung Theological Seminary. She noted how Psalm 88 resonates with our own experiences of pain and darkness; in it "we discover the power of honest lament, the importance of pouring out our hearts to God, and the hope that can be found, even in the darkest of times."
Each day, to accompany and apply the Bible exposition, participants were gifted with liturgical objects. On the first evening, they received a printed Tabah & Tangguh seed card to take home to plant as a symbol of sowing happy obedience, whilst during the session on lament they were given soft clay and invited to shape it in a way that honestly expressed their relationship with God.
A vital forum to process and share about the Scripture message was small group time. Led by 135 student delegates, each group included a rich mix of views and experiences, including perspectives from IFES field and office staff, general secretaries, and board members, as well as other guests. It was a valuable time to pray together – and for each other.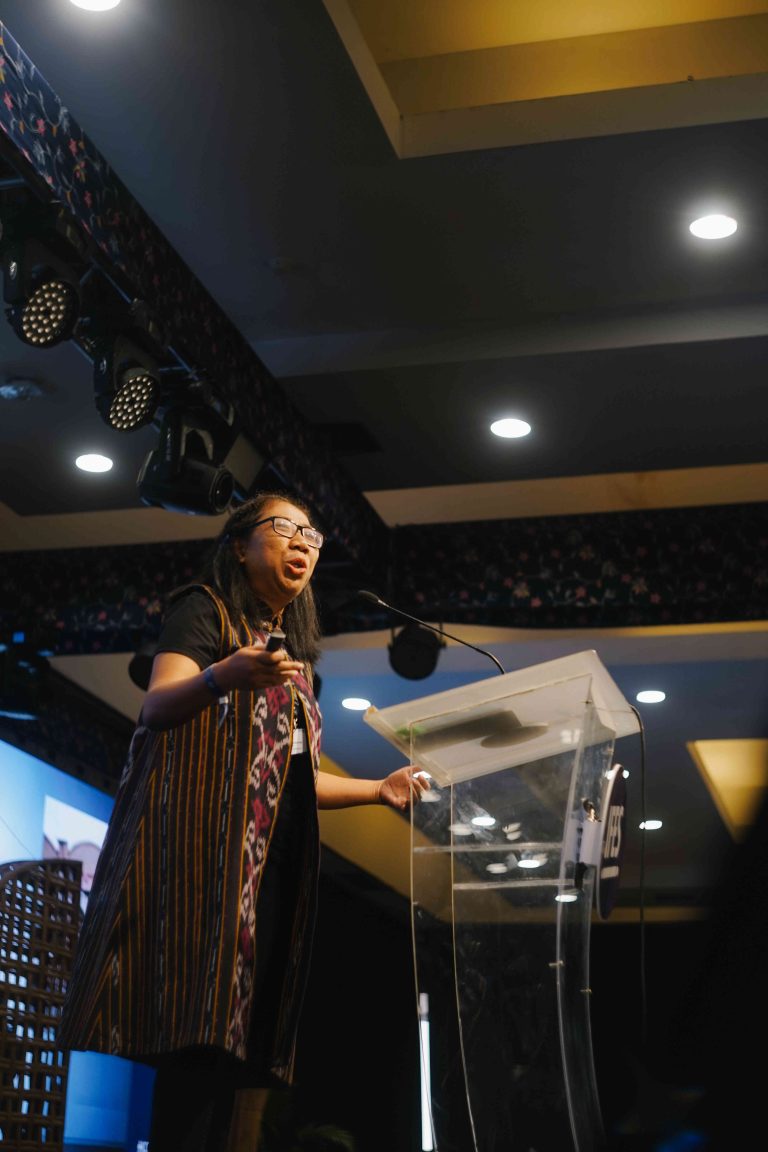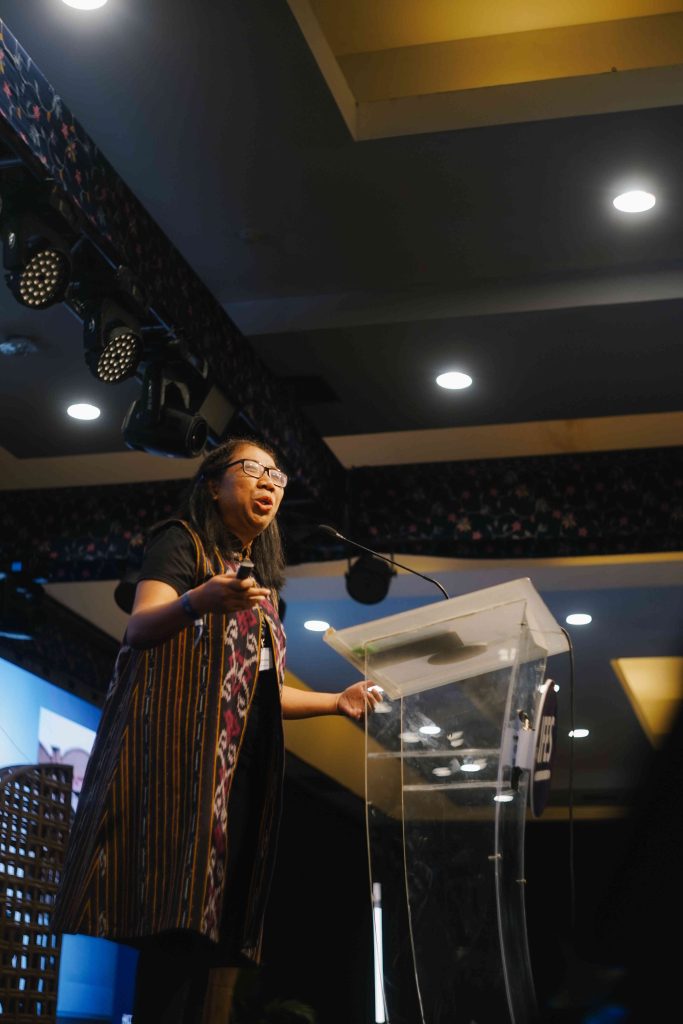 The conference further encouraged reflection on honesty and resilience in the psalms with two additional elements. The first of these was a large hall that operated as a 'contemplative arts room'. Throughout World Assembly, participants could generate their own artwork and view what others had created. The second element took the form of an afternoon Selah. Inspired by the word in the psalms indicating a break or pause, this two-hour 'silent retreat' gave everyone an opportunity to consider how God had been speaking and to seek his guidance for the future.
A staff worker from Papua New Guinea commented, "One of the things that really helped me to absorb everything was the Selah time: I felt God met me there".
Honesty and Resilience in Tackling Contemporary Issues
In addition to seeking God in the Psalms, an equally significant dimension of World Assembly was honest engagement with contemporary issues faced by students on campuses everywhere. These included the changing nature of university, environmental concerns, mental health issues, the call for justice, and the importance of arts and creativity. Through evening plenaries that incorporated keynote speakers, artistic performance, and student testimonies, delegates were invited to see how the gospel provides a robust framework for understanding the issues – and a mandate to respond to them.
This looked like: Prarthini Selveindran (Singapore) calling for a 'shalom' view of mission on campus; student Belyndar (Solomon Islands) taking a lead role in campaigning for the International Court of Justice to endorse the Advisory Opinion on Climate Change and Human Rights; stories of students addressing mental health challenges in Mexico, Hong Kong, and Fiji; Lakina Milanzi (Malawi) challenging us not to leave behind those with disabilities; and participants experiencing the two-stringed Tapi ministry of Peter Paris (staff in FES Malaysia).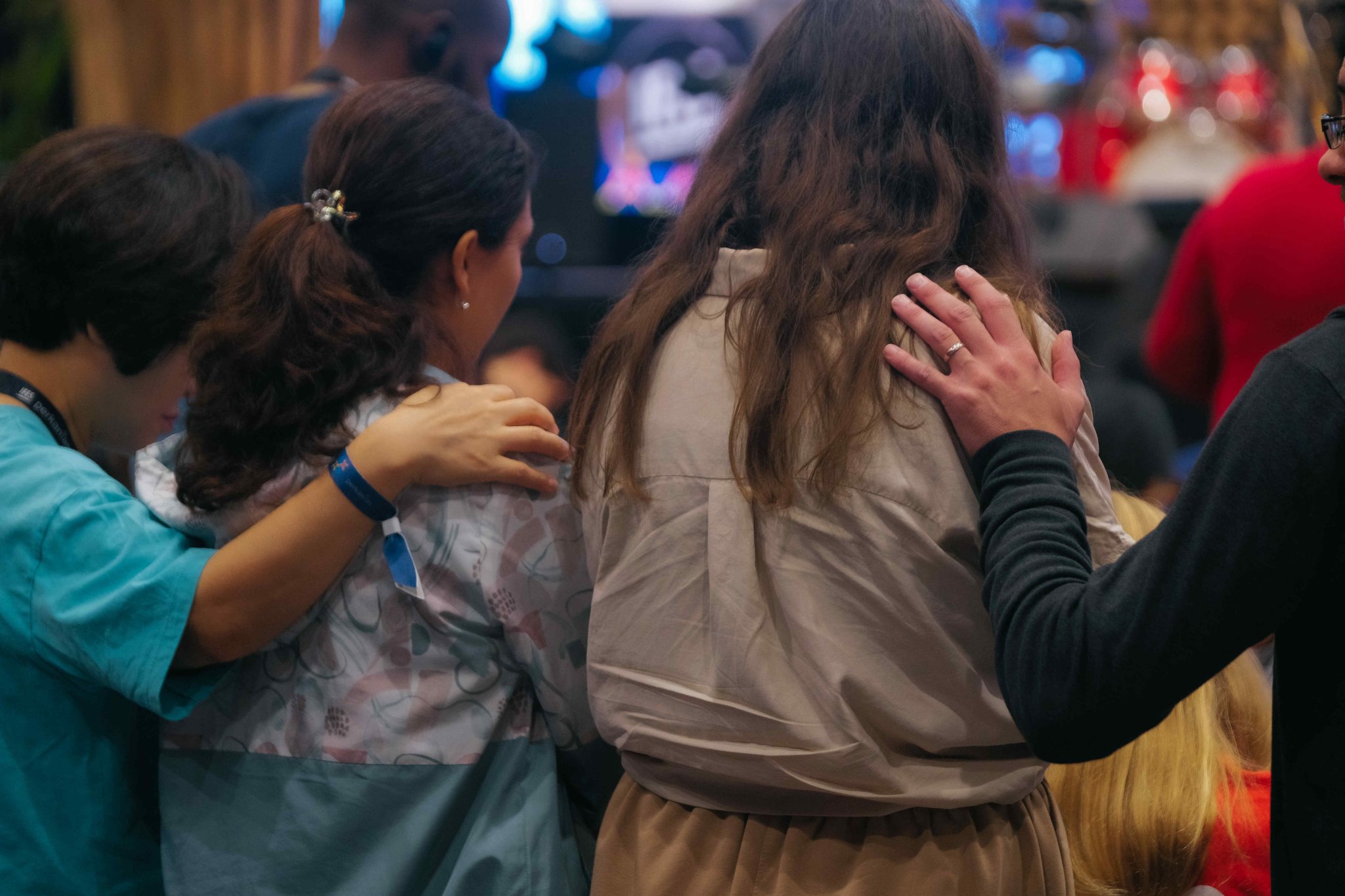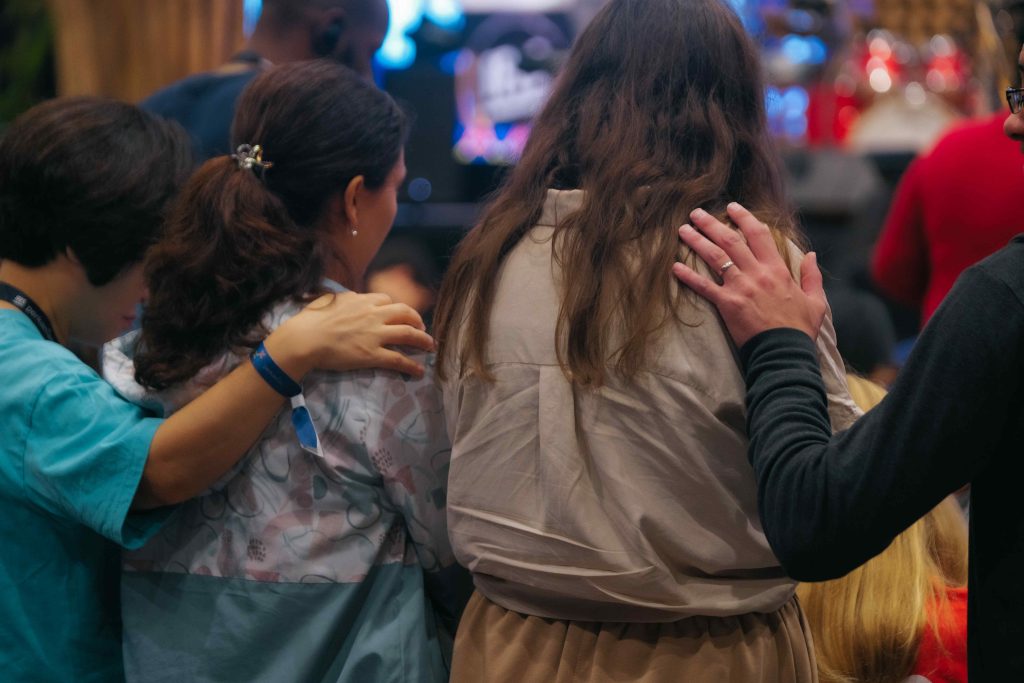 Some of these issues were explored through a selection of 'Conversatorios' (conversations with a panel of speakers), whilst other practical aspects of ministry – such as pioneering new movements, witnessing through Scripture, ethical leadership, and good governance – were covered in various afternoon seminars. Delegates also connected with each other around meal tables, honestly exploring common ministry struggles and discussing ways forward. In fact, it is through these countless connections and conversations that World Assemblies nurture and strengthen deep relationships, build understanding, and establish trust – thus enabling the pursuit of our common calling.
Although the hundreds at World Assembly in Jakarta could consider issues together, there were innumerable others who were unable to be there in person. So, for the first time, groups of students and staff were given the opportunity to participate remotely with certain sessions in real-time. Around 100 groups joined for the livestreams of morning and evening plenaries, and many joined the Conversatorios, even asking questions to the panels.
One online participant wrote: "The diversity we shared as one body in Christ has impacted us … we are connected!"
Honest Reporting and Decision-making
Another essential component of any World Assembly are the General Committee meetings, through which decisions relating to the life and governance of IFES are taken by delegates from the (now) 164 national movements affiliated to IFES. Whilst such business meetings are not often exciting or emotional, it was notable that even these meetings in Jakarta were marked by a depth of honesty and integrity.
With tears, Septi Bukula, IFES Board Chair, acknowledged how difficult and demanding the last four years had been. Yet he said that the Board had not only been characterized by periods of intense reflection about the identity of IFES and the challenges it faces, but also by an atmosphere of learning and thanksgiving. "We can say with great confidence that the Lord has brought us to a happier place", he concluded.
And with much joy, four national movements were recommended and unanimously accepted for affiliation to IFES – the Student Christian Movement of the Bahamas, the Campus Evangelical Fellowship of Taiwan, and movements in sensitive countries in the Francophone Africa and MENA regions (read more about these in this Prayerline).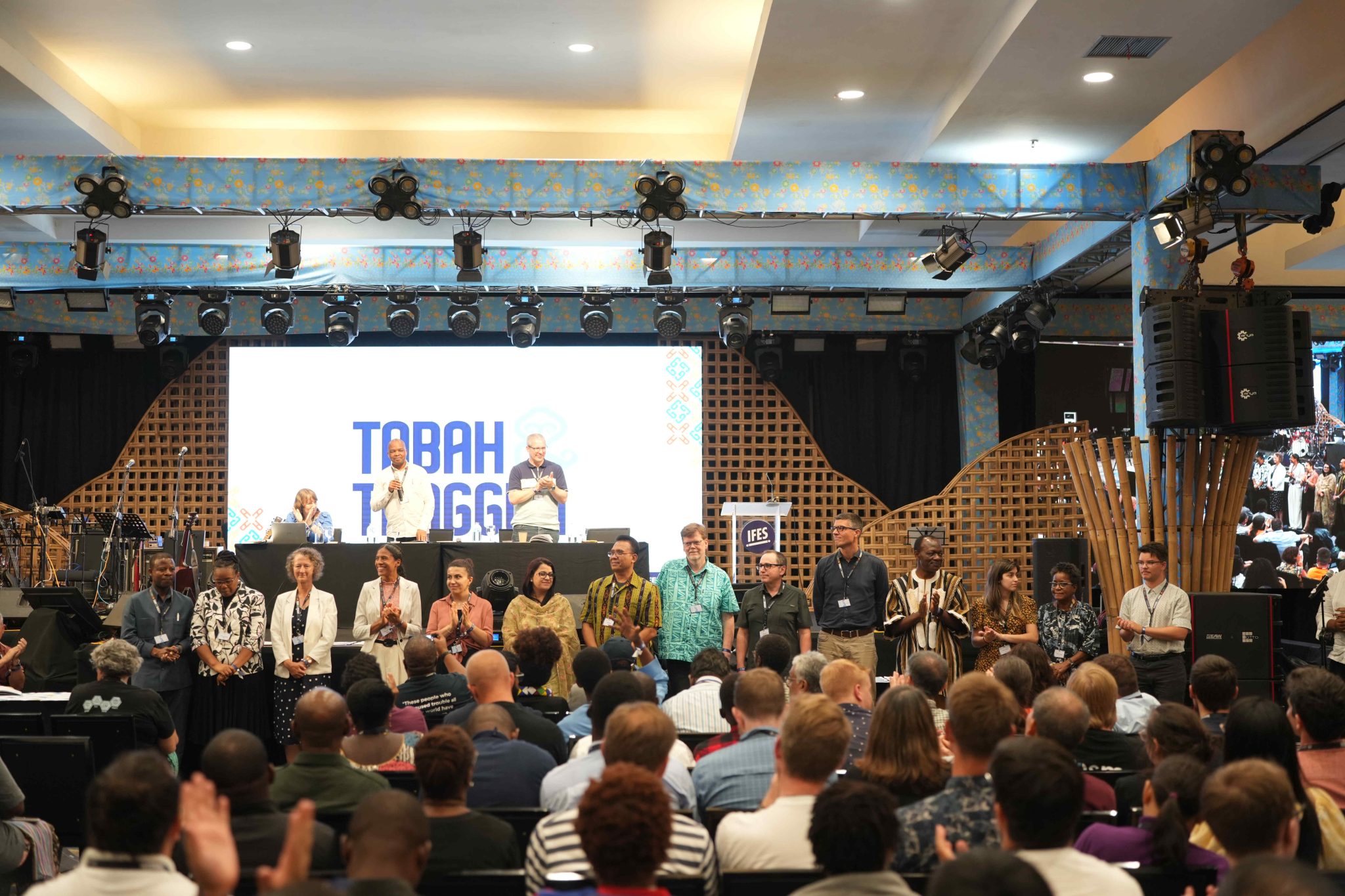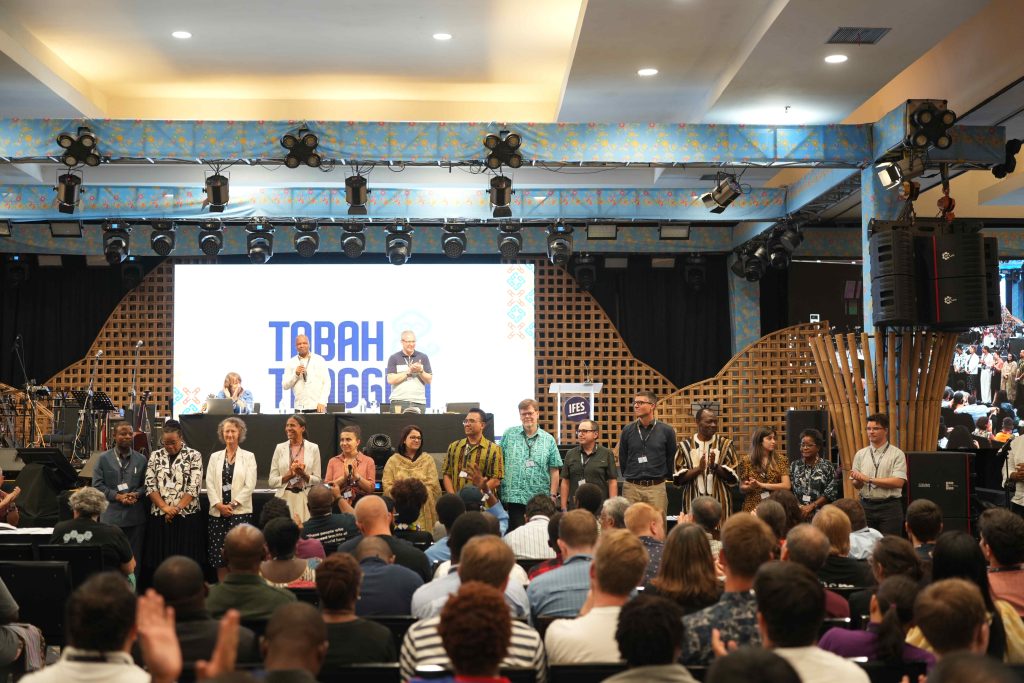 The committee also received reports on how the Board had faithfully and transparently responded to motions raised at the last World Assembly. At the end of the week, heartfelt thanks were expressed to retiring board members and prayers offered for new members elected by the General Committee, including the new chair, Michel Kenmogne (Cameroon).
The Honest Truth
Whether voting in committee meetings, engaging with big issues in plenaries, reflecting on Bible expositions in Selah, learning from fellow participants in small groups, or sharing stories around a dinner table – in all things World Assembly – participants were never far from an honest call to be witnesses that are tabah & tangguh (resolute and resilient), in the university and beyond.
Reflecting on the week, one delegate said, "We have a living God… a refuge that is everlasting… and he wants us to rely on him in the time of struggle, to be tabah dan tangguh".
One special opportunity to mark that calling was an evening of praise and prayer to celebrate 75 years of IFES. The evening contained short inspirational video messages from previous IFES general secretaries, moving testimonies from the floor, and a brief address by the current IFES General Secretary, Tim Adams, who emphasised that "we are stewards of an amazing legacy".
It is no secret that a Christian conference of this magnitude can be a transient bubble of glory-story hype. The summary above shows that World Assembly 2023 was not. And the week's realism was brought to a fitting close with a communion service centred on John 15, reminding all that their strength and steadfastness will come through staying connected to the vine, to the One who suffered for us, Jesus.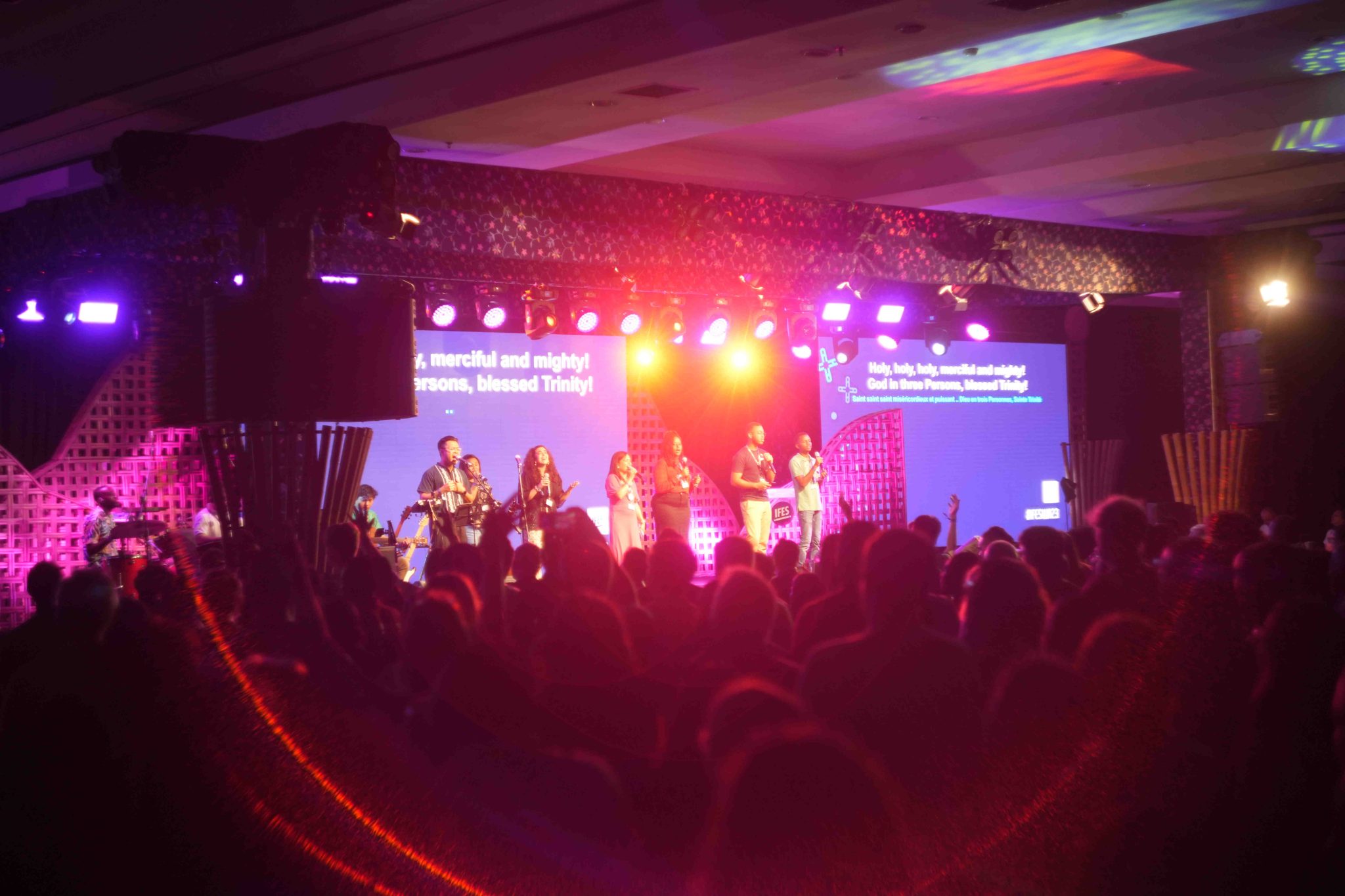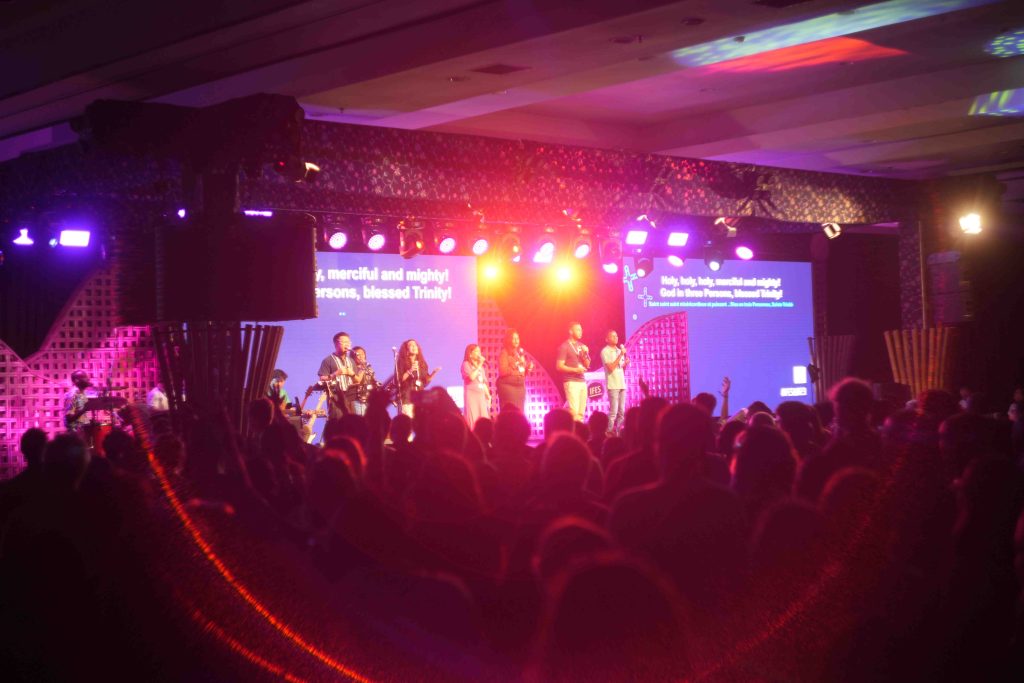 In that closing ceremony, Tim Adams pointed to the bamboo creations specially designed to flank the stage and reminded delegates of Annette Arulrajah's words from the opening night. Even under intense pressure, that hardy grass will flex without snapping due to the hollow space inside. And it is only as we let God's presence fill the space inside us that we can truly be tabah and tangguh.
Many thanks go to all who had a role in the planning and execution of World Assembly, with deep gratitude to the host movement, Perkantas Indonesia, for all their joyful service and generous hospitality.
Thanks also to those who donated towards the event, including those who enabled over 100 delegate and travel scholarships.
And thank you to all who prayed. Please continue to pray for the delegates as they return to their national contexts and seek to apply all they have learned.
Read testimonies of the impact of World Assembly in this Prayerline.