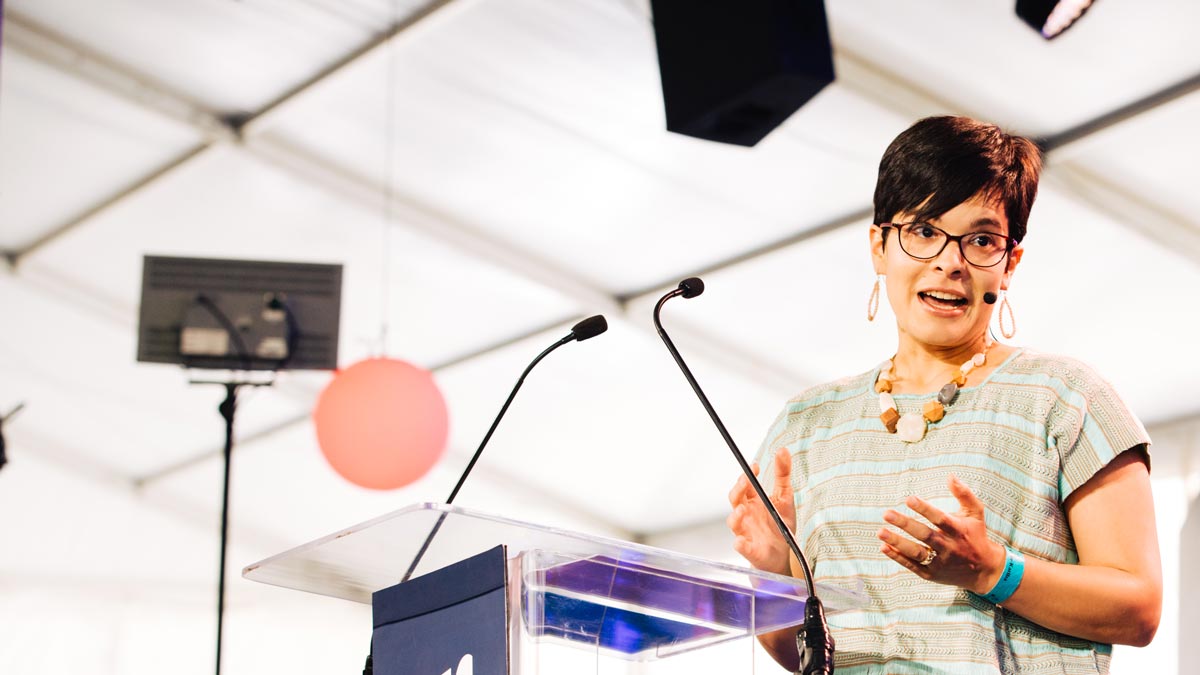 Messengers of hope
The university in God's story
In the final chapter of Luke's Gospel, we find the story of two disciples on the road to Emmaus. A few days before, Jesus was crucified. Now his tomb lies empty and his disciples find themselves in a world of opposition, trying to make sense of what has happened.
Jesus meets them, walks with them on the road and opens the Scriptures with them. The encounter restores their hope and transforms their lives.
Watch this series of Bible expositions from IFES students, staff and guests from Africa, Asia, Europe and the Americas. We pray this unique international journey with Jesus will leave you with a renewed sense of hope in him, and a deeper sense of calling to be messengers of hope in today's world.
LUKE 24:13-35 · On a journey with Jesus and one another
Sabine Kalthoff, Secretary for IFES Scripture Engagement
Where are you in your journey with Jesus? Join us on our World Assembly journey as we look at how the resurrected Christ journeys with His disciples, changing them as He opens the Scriptures and revealing Himself.
Hope in the Bible's grand narrative
Dr Chris Wright, Langham Partnership International Ministries Director
Listen in as we explore the grand narrative of the Bible: a story; a true story; God's story – and our story. The place where these questions are answered. The place where we can meet God Himself.
LUKE 24:13-35 · Reframed by Jesus
Alejandra Ortiz, COMPA regional team and COMPA Mexico leadership
In the midst of their doubts and discouragement, the disciples encounter Jesus. As they walk, talk and break bread with Him, their perspective on reality is totally transformed: they are reoriented, refocused and reframed. Walk with us and the disciples on the road to Emmaus and let Jesus' words reframe your perspective on reality.
Luke 7:11-30 · Standing at the crossroads
Dr Chris Wright, Langham Partnership International Ministries Director
John the Baptist was in prison. Life was not working out well. Was this part of God's plan? Could Jesus still be who He said He is? Explore with us how Jesus' response gives assurance, hope and a world-changing mission.
Luke 9:18-27
Joshua Castillo, Inter-Varsity Canada student
Who do you say Jesus is? The crowds have conflicting answers, but at least Peter has the complete answer! Or does he? Jesus takes us on a journey to discover more about His identity, and challenges our understanding of what it means to be His disciples.
Luke 9:28-45
Vera Minorova, CCX Russia student
The disciples still don't fully get who Jesus is or what He's all about. But Jesus meets them in their brokenness, lack of faith and inability; He shows them His glory. Will we be those who obey God's call to His followers today: "Listen carefully to Jesus"?
Luke 9:46-62
Nanna Kildahl Mathiasen, KFS Denmark student
The Kingdom of God is a Kingdom of surprises. The disciples had great expectations of what it meant to follow Jesus. But Jesus, who became a child and an outcast, showed a different way. He calls us today to follow Him, proclaiming His Kingdom of surprises.
Acts 1:1-11 · The story is not finished yet
Alex Nanlohy, PERKANTAS Indonesia Associate General Secretary
What happened next for the disciples? What happens next for us? The story continues as Jesus' Spirit-empowered disciples are sent out as witnesses to the ends of the earth. What does the story look like around the world? What does it look like in Indonesia? What will it look like for you?
Acts 1:1-11 · What is hope?
Janna Louie, InterVarsity USA Graduate and Faculty Ministries Area Director
Join us as we look at our calling as followers of Jesus empowered by the Holy Spirit, to engage places of pain and hopelessness, pointing people to the hope of the resurrected Christ.
Acts 3:1-26 · Our mission as agents of hope
Dr Mamusha Fenta, Bible expositor and conference speaker in East Africa
We join Peter and John as they encounter a broken man and bring a message of hope to a broken people. What about us today? We consider our calling as Spirit-empowered people, to courageously proclaim the message of hope, in word and deed, to our broken world.
Acts 4:23-31 · Pentecost of assurance
Augustin Ahoga, IFES Francophone Africa Regional Secretary (2007-2019)
The disciples needed courage and assurance in the face of persecution, and God met them powerfully as they prayed together. Across the IFES world today, we too need courage and assurance in our different contexts to keep on speaking the message of hope. As we unite in prayer, what can we expect God to do?