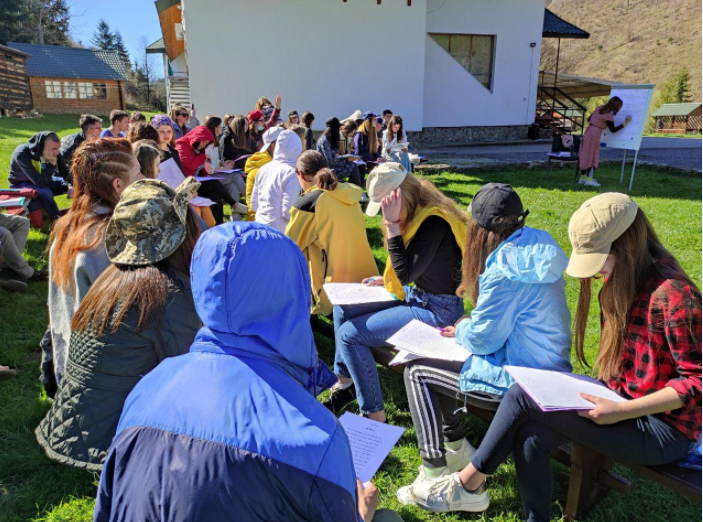 Ukraine: Captivated by the Word of God
Six hours a day. Fifty-nine students. One gospel text. This is Mark Camp.
For five days, students from Ukraine gathered in the Carpathian Mountains to explore the book of Mark. Some were skeptical about their ability to digest such a large portion of God's Word over just a few days, but they would soon discover the richness of diving deep into a biblical text – and doing so together.
Ukraine has seen many Mark Camps meeting at a regional level, but this was the first time that the camp had met nationally. The result surpassed the impact of all previous camps. A staff worker from Kharkiv shares,
"Almost all the students cried, when they shared how God influenced them through this camp… I do not want to exaggerate, but I have not seen such unity and such action of the spirit at national projects until this camp. It was unbelievable! We came back transformed! For CCX Kharkiv it was a life-changing trip – we became a family."
Studying the text challenged the students to consider how they could align their lives more closely with God's heart. Students repented of living like "Pharisees." They reflected on how they could better love international students in their communities. Some realized that they needed to be baptized, and others began studying Scripture with nonbelievers after the camp finished.
And those students who were unsure about studying the Bible for six hours a day? A staff member from Kyiv shares,
"At the end of the camp, they could not contain their feelings at how much they had learned from the gospel of Mark. The mystery of the Kingdom of God, the parable of the sower, the authority and power of Jesus, the disciples. Students listed stories and conclusions that they remembered. Several students decided to continue reading the rest of Mark's gospel after camp. Looking at the students, we rejoice as the Word of God changes and captivates them!"
Praise God with us for the power of his Word and its influence on students throughout the world.  
Pray that the students who participated in this Mark Camp will continue to make Scripture a daily part of their lives.
Pray that they will share what they learned with their friends, both Christian and non-Christian, and encourage others to join them in studying Scripture together.
Thank God for the beautiful fellowship of this national Mark Camp and pray for others like it that happen around the world.