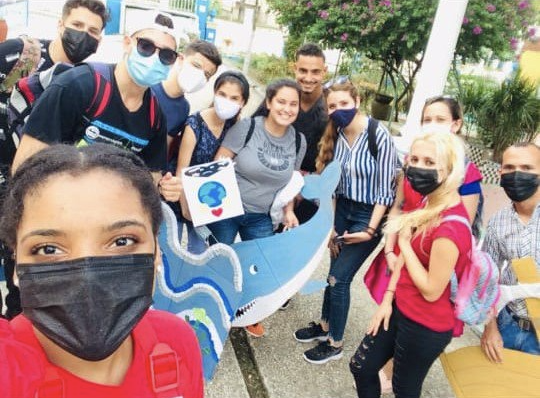 Cuba: Porque Él nos amó primero: visita a una residencia infantil
Koinonia, the student movement in Cuba, have been demonstrating the love of Jesus to a broken world.
Gretel is a student leader in the city of Sancti Spíritus. Her student group found an opportunity to reach out to a local children's home. The students wanted to show God's love to the 20 children living there, all between the ages of 4 and 12, who had no parents to care for them. But it was the first time they had done anything like this.
While the idea felt 'super crazy,' Gretel explains how the Lord opened the doors for them. 'In the middle of the pandemic,' she reflects, 'I don't know how, but we had the same feeling. We wanted to show the love that God has for people. This idea couldn't have come at a better time, when grief from the pandemic was at its peak, and many people were going through real storms.'
The students decided to bring some toys and gifts for the children. They also put on a play for them, exploring the theme of Christian love.
Gretel testifies to a real feeling that God was with them and working through them in the lives of the children. She shares that 'there was not a single day, not a single hour, not a single minute, not even a second that we did not see the mighty hand of our Father in heaven. It wasn't as easy as it may seem. But for God nothing is impossible. We knocked on the doors and they opened wide. Students who planned, coordinated, prayed, and put everything into the Lord's hands from a distance were a blessing to beautiful children who have not had the opportunity to know the gospel, in a place where affection, joy, and genuine love is always welcome.
'We were blessed, too. I know I speak for everyone; there is no explanation for what we experienced. That fullness that we felt. God is good! And God wants us to demonstrate his love to others, just as he has demonstrated it to us. Do not hesitate to do crazy things for the kingdom of God. God will support those blessed and glorious adventures. You will see that he not only accepts you unconditionally, but he accepts others – just as we saw it.'
Gretel signs off with a prayer and a challenge; 'May we be Christ's adventurers!'
Pray for Koinonia in Cuba:
Pray that the students in Sancti Spíritus will be able to continue building relationships with the children they met; and that these relationships will impact the children. Pray that it will point them to Jesus, and they will be adopted into sonship (Ephesians 1:5), children of God, co-heirs with Christ (Romans 8:17).
Pray that Koinonia students will continue to demonstrate God's love to those around them throughout their lives.
Pray for Koinonia to continue to grow and flourish, even in the difficult times caused by the pandemic.