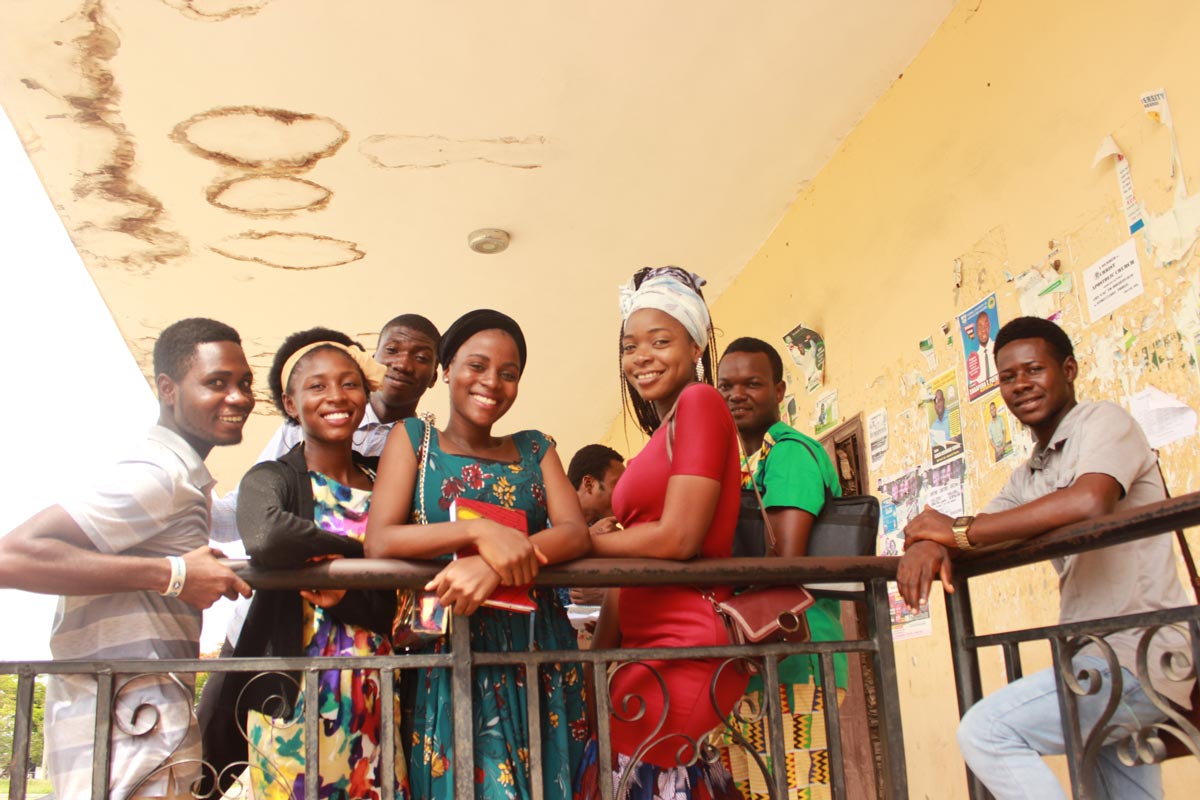 Pray for the students of Europe, Africa and the Middle East
We've put together these prayer cards to help you pray for the real people and real needs of Europe, Africa and the Middle East. Meet the students of Bulgaria, Liberia and Benin. Find out what's going on in the IFES student groups of Portugal, Uganda and Cameroon, and get praying for them on World Student Day.
Europe
Beatriz, GBU Portugal
We've been noticing that Christian students in Portugal are quite disconnected with their universities. They don't really know their classmates very well. Pray that students would invest in friendships so that they can share the gospel with others effectively. Pray also for the mission weeks happening in November.
Glasgow University Christian Union, UCCF Great Britain
Students are generally apathetic towards God and don't see His relevance. It's hard to stand out and stand firm as we are such a minority.
Through international student ministry we long to form cross-cultural relationships with students from all over the world who often feel isolated. Pray for our international ministry – that God would guide us and provide for every need. Pray that in everything we do we would remain faithful to the gospel and proclaim it, trusting that God will save.
Natalia, GBU Italy
Here in Bologna, Christians students are a small minority. Other students think we are strange, they are not interested in what we have to say. It is nice to see Christen students from different countries united in evangelism through GBU. Pray that God would work in the hearts of the students, to bring them along to GBU and change them through His word.
Charlie, UCCF Great Britain
Our Christian Union is a great mix of students from the UK and around the world, as well as people from different disciplines and at different stages. People are often surprised to see us spending time together, but it really draws people in.
Pray for the new students to get stuck into churches and be bold in living out their faith. Pray for our relationships – that we would be really proactive in inviting people into our community and making them feel loved and valued.
Monika, BCSU Bulgaria
Students are oblivious to their purpose in life. They try to find their identity and value in what the world offers them. They choose to follow the god of self. When I share about why I choose to follow Christ rather than self this is something very strange for them. Our student group has held events for both international and Bulgarian students where they have had the chance to build up new friendships, learn about each other's cultures and lower the barriers through laughter, conversations and new memories together. Pray that the Lord will continue using our group to break through the ice in the hearts of the students and ignite them for the Truth. Pray that God will equip us with boldness and wisdom to be messengers of His salvation.
Gioia, GBU Italy
Pray for the Mark Drama and for our friends who want to know more about Jesus. Pray for our new groups and news students who have just joined our Bible studies.
BCSU Burgas, BCSU Bulgaria
Students are uninterested in God, Christianity or the gospel. New trends push students away from Christian morals. Pray that we would open our hearts and lives for other students, build friendships and show them our faith and hope in Christ in a natural way.
Alistair, UCCF Great Britain
The biggest challenge we face is that, as Christians, we are sometimes seen as bigoted or homophobic because we disagree with the culture. Pray that students would come to know Jesus through all our events this year and that Christian Union members would be bold in sharing their faith with friends, course mates, flat mates, team mates and even strangers.
Sarah, KFS Denmark
Pray that our small groups in high schools may be allowed to meet in classrooms. Pray also for our KFS staff now pioneering in Greenland.
Katrin, UCCF Great Britain
There is a lot of pressure to attend society socials and get caught up in the drinking culture. This can be challenging as a Christian because you want to develop friendships with non-believers, but you don't want to compromise biblical views to fit in. We are blessed in Cardiff to have the nations brought to us with a third of our students being international. The Christian Union at Cardiff University is the only society which has an International Secretary and events for international students. Pray for the international student work, that we will continue to engage with all nationalities and be bold in sharing Jesus on campus.
Áron, MEKDSZ Hungary
People have a lot of prejudice against Christians. It's really hard to show them that our hope, Jesus Christ, is totally different than empty traditions and hypocritical religion.
Please pray for us as we don't have General Secretary at the moment and have just started the process of finding a new one. Also, a lot of students are feeling overwhelmed. Please pray that God's joy, wisdom and power would fill us, so that we could be faithful in showing and telling God's story to the students.
Jenny, UCCF Great Britain
It's a challenge to be different. Another big challenge is that others don't always understand what a Christian is and get confused with religion and politics.
Pray for a revival on the campus. Pray people would know what the Christian Union is and what we stand for – that it's not politics but that a relationship with Christ is life changing. Also pray for international students to be saved and to bring their faith back to their home countries when they graduate.
Daniel, GBU Spain
The biggest challenge is trying to share the gospel with a generation that clings to a science that suggests that God does not exist. Pray for unity for the Christians in the group, that our friendship may be strengthened. Also pray for greater courage to share the gospel and wisdom to deal with the people around us.
Nia, GBU France
Students are not always interested in the Christian faith, and sometimes Christian students are afraid to share and live out their faith fully. Pray that the students will have the courage to live wholeheartedly for Christ and that the Lord will be glorified in their lives. May the Lord open the hearts and eyes of the students in this city, Nancy.
Rebecca, FCSA Luxembourg
Luxembourg is a small country with one public university spread out on 3 campuses. There is also a small private university. The student ministry is in a pioneering state. Many of the students in the group moved back to their home countries or graduated during the summer, so only a few people have remained in the group. The majority of students at university are not searching for God or anything spiritual. In that secular context it can be hard for the Christians to share their faith. Please pray for wisdom and boldness for the Christians to share their faith at the University. Pray for new students to join the group. Pray for God's guidance in how we best can reach out.
GBU Padova, Italy
Being a smaller evangelical group in a larger Catholic society means getting enough student numbers to become an official registered club is a challenge.
It's encouraging to see Christians have a heart for those who might not fit into the regular group or society. They love others like Christ and shine his light through their classes as they choose to sit with a stranger or invite someone for coffee.
Please pray that we'd keep faithfully studying God's Word, opening it up and hearing what he has to say for us, rather than putting our own ideas on to the text. Pray that we'd take God's Word as the authority over our lives so that we can live godly, salty lives in a society that doesn't know or reflect him.
GBU Bologna, Italy
Christians are a small minority here and we are often seen as strange. Others just label us as 'religious' without understanding that we do not want to share 'rules' but a person: Jesus.
It is great to see Christian students from different churches and countries united to share the gospel with other students on campus. Please pray that we will be faithful in sharing the gospel, and that some more of our non-Christian friends will come to our Bible studies.
Middle East & North Africa
Francisco
Thank God for the unity between Christian students seeking to reach out through dialogue and discussion to students of other faiths. Pray for bold and creative gospel witness, and wisdom in sharing our faith with students from other religions, in the midst of potential persecution.
Stéphane
The main challenge is the Islamic context. We don't have meetings on campus. Pray for the consolidation of our members. Pray that we will have the freedom to express our faith on campuses throughout the country.
Francophone Africa
Richard, GBUST Togo
The challenge of being a Christian on our campus is to overcome mockery and student indifference to the good news. On our campus, students from different evangelical groups (including our GBU) have come together as a federation to be strong and preach Christ. Pray that God will give strategies for communicating the gospel. Pray that students will embrace the GBU vision and also excel in their studies. Pray for political and socio-political stability surrounding the presidential elections in 2020.
Jacques, GBUR Rwanda
It's challenging being a Christian on campus because of university restrictions. Pray for our university leaders who are Christians to be bold in Jesus Christ so that they may resist ungodly regulations which affect Christian fellowship.
Bebo, GBUST Togo
We experience restrictions because of secularism on the university campus. Pray that the kingdom of God may come in our university and in the lives of the university authorities. Pray that we can complete the purchase of land next to the university to be used as a meeting place.
Tiffanie, UGBM Madagascar
Pray for the conversion of young people in Madagascar, touched by evangelism. Pray for luke-warm Christians to grow in intimacy with the Lord. Pray for me – I would like to grow in my faith a lot.
Laetitia, GBEEC Cameroon
In my context, we Christians students are involved in social and academic activities and we encourage young Christians to be leaders in some university associations. It is a powerful way to share our values with people and to create links. We want peace to be re-established in this part of our country. People don't believe in God because they are suffering a lot. We need courage because Christian students are getting discouraged and are leaving the area for security reasons.
Abel, GBEEG Guinea
Pray that local students would be engaged and committed to the movement for the glory of Christ.
Koffi, GBUST Togo
Bless the Lord for ensuring the smooth running of the group's activities last year. May God equip the new office for the mission on the University campus of Lomé. Pray that students would be committed to the mission of GBU and develop their personal relationship with the Lord. Pray for the acquisition of land near the campus. May God give us strategies for communicating the gospel. Pray for socio-political stability in the 2020 presidential elections in Togo.

Josiane, GBUSS Senegal
The Senegalese context is predominantly Muslim. Several brotherhoods share the university environment and they flood campuses with their beliefs. Pray for a dynamic and committed staff. For the will and courage to proclaim the gospel, and for God to raise the resources we need.
Pierre, GBUR Rwanda
Pray for us regularly that the students may understand the concept of being a true discipleship of Christ, even in the face of silent rejection. Pray that non-Christian students may encounter the truth.
Tchabi, GBEEB Benin
Students here are very busy with study, so it's a challenge for Christian students to make time for other activities.
Students of the world, please ask the Lord to support the weak remnant, the students still committed to the flame of the gospel on our campus. Pray that the Lord will grant them grace to always witness in spite of the very difficult context.
Lyale, GBEEC Cameroon
We are not allowed to meet on campus. Pray that we will be given the opportunity to meet on campuses.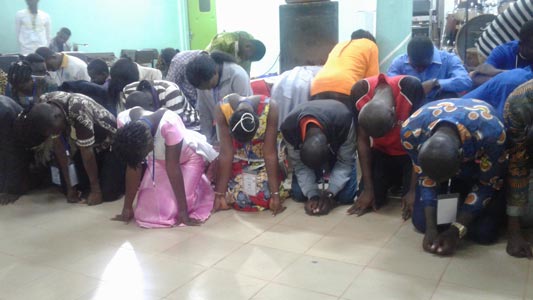 Djibougou, GBU Burkina Faso
Pray for us as we develop innovative methods of evangelism. We need tools to support new Christians.
Jonas, UGBB Burkina Faso
The biggest challenges are the Christian stereotypes held by Muslims and Catholics, and the lack of students devoted to sharing the gospel boldly in their departments. Pray that Christ will provide circumstances which will enable sharing His gospel with students on campus and pray that students will stand boldly in sharing the gospel.
Stéphane, GBUCI Côte d'Ivoire
There are many barriers between groups on campus. But today, several Christian networks are being created to reduce these barriers. Pray that the GBU will be an engine of reconciliation between students from different backgrounds.
Michaël, GBU Democratic Republic of Congo
In the DRC, politics is affecting the university world. There is tribalism between students, and in this context the students are focusing on politics rather than the gospel. Pray that God will help the students to change this trend. May Jesus Christ live through the students.
English- and Portuguese-Speaking Africa
Godfree, FOCUS Zimbabwe
On my campus, most students are ashamed of the gospel because of the negative labels that are given to Christian students. Christians also need wisdom to know how to be distinctive in social gatherings. Pray for the spiritual and numerical growth of our group. Pray for students to be bold and not ashamed to share the good news.Pray for financial resources, for Bible study materials and for graduates to serve the movement.
Aida, Equatorial Guinea
Many people say they are Christians, but they don't live as Christians. Some Christian activities are not permitted on campus. Pray that students would want to honour Jesus in their studies. Pray that students would want to serve the Lord by leading the Bible studies, finding time to pray together and sharing Jesus with their classmates.
Peter, FOCUS Uganda
Pray for a breakthrough in the national movement's journey. Pray that God would raise strong student leadership, dedicated students, a strong associates base and financial resources.

Kulah, LIFES Liberia
Pray for young minds who are eager to learn and know Jesus Christ. Pray for the nation as a whole as we experience a test of democracy. Pray for the finances of the movement.
Hankuri, NIFES Nigeria
Challenges for Christian students on campus include a high level of nominalism, adverse policies and religious fundamentalism. We are organising a peace summit for Christian and Muslim students on campus. Pray for unity of purpose, and pray for Christian students to shine as a light on campus, as they live out their faith at university and beyond.
Mamokete, SULTM Lesotho
The biggest challenge we face is overcoming feeling intimidated by other students. Pray that we should all be united and not let what other people say about us make us quit.
Domian, FOCUS Kenya
It's challenging to not compromise on godly values. Pray for our effective evangelism in a Muslim-dominant community near our campus.
NIFES Zaria Zone, Nigeria
There is a culture of Christianity that is not Word-based. So many are afraid of persecution and an environment that is adverse to Christians from the political structure in leadership in the state and even the school community.
Pray for strength of heart for Christians to live godly lives without fear or shame. Pray for the lives of the leaders of Christian groups on campus, that they will live acceptable lives to God and pray for financial provision. Many cannot pay their fees because of poverty in the country. Many students are dropping out of school, evening though our Associates and staffs are helpful to avoid the case of drop out.